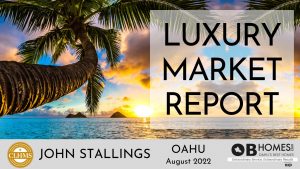 CLICK HERE or on the image above to view John Stallings' August Oahu Luxury Market Report. (https://bit.ly/2VoqoH1)
August Highlights for Luxury Market Report
The report is a guide to the luxury real estate market in North American.  It provides an overall analysis with trends and highlights comparative data on the top-residential markets throughout Canada and the United States.
This month's report displays the market statistics for North America month over month as well as the 13-month trend.
This summer several trends are making waves. We investigate how they are influencing the market in both the short and long term.
Although the market is showing definite signs of slowing down, we discover why the appetite for luxury real estate is far from diminished.
Understand why planning for the long term has become a significant trend and how buyers are leveraging the opportunity of more listings and time to locate their preferred primary or secondary homes.
We investigate why second homes continue to see high demand and the opportunities in this type of homeownership.
What luxury amenities are in this summer and why are homes that offer more than just the basics seeing increasing interest from affluent buyers.
The affluent are often trend leaders in home design. We discover not only the current palate in vogue but what is driving their decisions.
Technology holds the key to assisting the affluent in the future as their choices continue to diversify. We investigate technology's impact on searches as well as the necessity for sellers to have an excellent online presence.
Slow supply chains and labor shortages have hampered the building industry, so why are custom homes still high on the affluent's must have list.
It is important to understand that the art of selling and buying should always include an analytical approach to truly appreciate the realities, rather than just listening to the market rhetoric.
For homeowners looking to sell or buy their luxury home in today's market we recommend working with a realtor who can provide you with critical knowledge about your local market, maintain a high level of security during the transaction and knows how to leverage technology to provide maximum exposure and assistance.
It is my responsibility as your REALTOR to ensure that when others around you are lowering their expectations, that this becomes the time for us to switch gears and discover how to leverage the market effectively to achieve your goals.