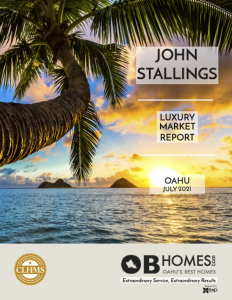 CLICK HERE or on the image above to view John Stallings' October Oahu Luxury Market Report. (https://bit.ly/2VoqoH1)
October Highlights for Luxury Market Report
The report is a guide to the luxury real estate market in North American.  It provides an overall analysis with trends, and showcases comparative data on the top-residential markets throughout Canada and the United States.
This month's report showcases the market statistics for North America month over month as well as the 13 month trend.
It also provides more in-depth statistics about (XXXX – put your city/area report name here).
This month we review the number of sales, year to date, as they compare to the full years of 2019 and 2020.
We also look at several trends in property types currently being purchased to ascertain which are seeing the highest demand.
We share with you seven takeaways for the state for the North American luxury real estate market from assessing the number of sales, demand for homes priced $1-5 million and $5 million + to the increased values of median sold prices for luxury single family and attached homes.
Understand what these takeaways tell us about the current market and expectations by the end of 2021.
Discover how the current real estate market together with our way of life are changing the momentum of buyer demand and which property types are trending this fall.
What are the reasons for these choices and how are they impacting how we live, play and work?
For homeowners looking to sell or buy their luxury home in today's market we recommend working with a Realtor who can provide you with critical knowledge about your local market, maintain a high level of security during the transaction and knows how to leverage technology to provide maximum exposure and assistance.
It is my responsibility as your REALTOR to ensure that when others around you are lowering their expectations, that this becomes the time for us to switch gears and discover how to leverage the market effectively to achieve your goals.