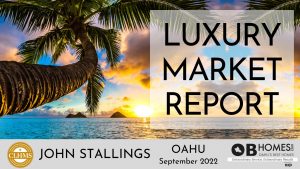 CLICK HERE or on the image above to view John Stallings' September Oahu Luxury Market Report. (https://bit.ly/3LoAuRe)
September Highlights for Luxury Market Report
The report is a guide to the luxury real estate market in North American.  It provides an overall analysis with trends and highlights comparative data on the top-residential markets throughout Canada and the United States.
This month's report displays the market statistics for North America month over month as well as the 13-month trend.
This month we review the return of a more normal pace in the luxury real estate market but explain why calling it a buyer's market might be too soon.
The markers are there for change, but much will depend on whether inventory levels rise this fall and if the properties listed are a match for the types of homes still in high demand by the affluent.
We reveal the various elements in play that are making the affluent hesitant to list their homes currently.
As we move into the fall season, we review some new opportunities and trends that homeowners and investors should consider during their property search.
What is happening that is enticing buyers back to the metropolises?
Emerging neighborhoods see an increase in demand as real estate investors look for new opportunities.
Understand why some of the affluent are reprioritizing their housing, location and fiscal requirements in this post-pandemic era.
And how diversification has a role to play in their plans for the short and long-term future.
It is important to understand that the art of selling and buying should always include an analytical approach to truly appreciate the realities, rather than just listening to the market rhetoric.
For homeowners looking to sell or buy their luxury home in today's market we recommend working with a realtor who can provide you with critical knowledge about your local market, maintain a high level of security during the transaction and knows how to leverage technology to provide maximum exposure and assistance.
It is my responsibility as your REALTOR to ensure that when others around you are lowering their expectations, that this becomes the time for us to switch gears and discover how to leverage the market effectively to achieve your goals.