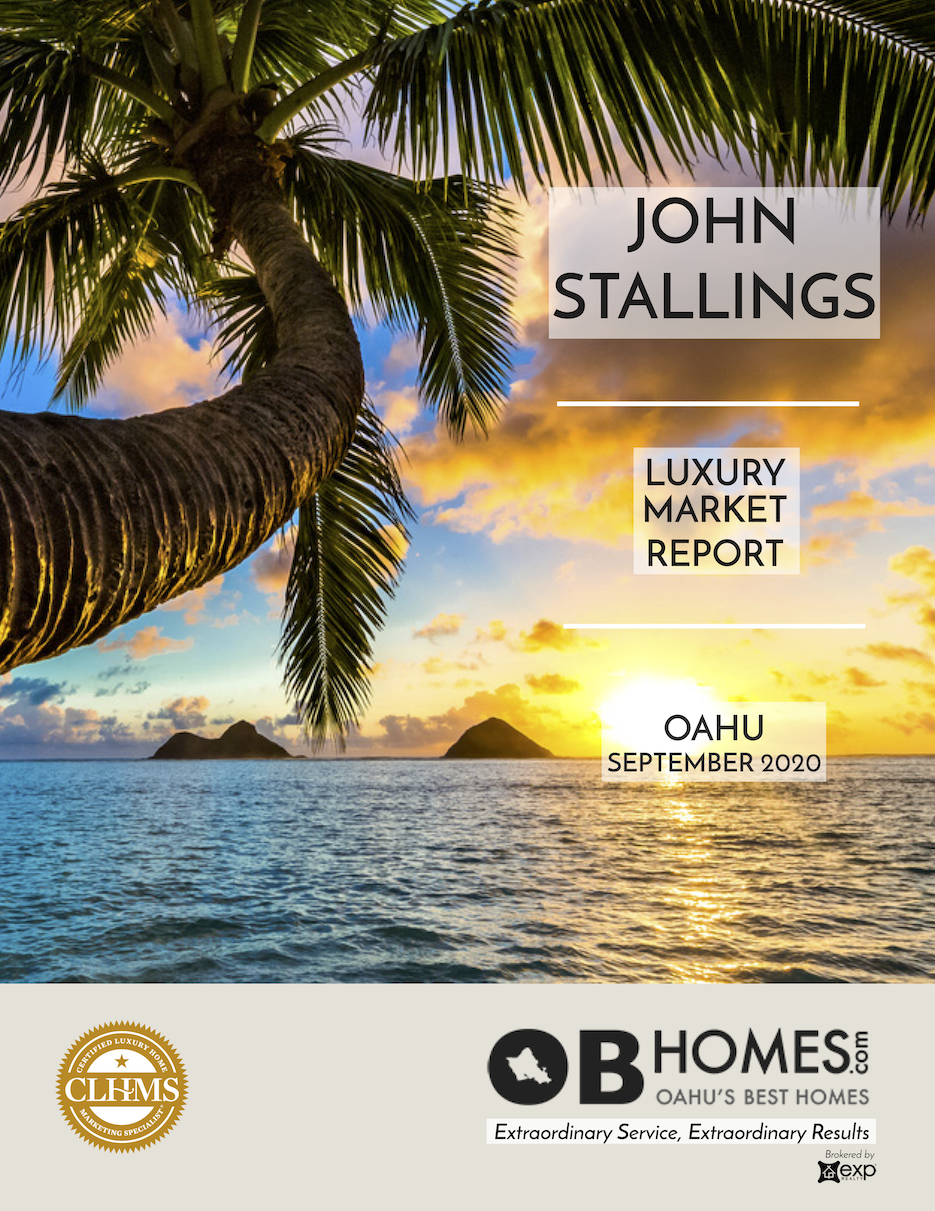 Please CLICK HERE or on the image above to view John Stallings' September Oahu Luxury Market Report.  The first part of the Oahu Luxury Market Report is a wrap up of the national luxury real estate market, check out pages 21-26 for ALL the details on the Oahu luxury home market. (https://bit.ly/3iPoklA)
September Highlights for Luxury Market Report: 
The report is a guide to the luxury real estate market in North American. It provides an overall analysis with trends, and showcases comparative data on the top-residential markets throughout Canada and the United States.
This month's report showcases the market statistics for North America month over month as well as the 13 month trend.
It also provides more in-depth statistics about the luxury real estate market on Oahu
We take a look at the buying trends of the affluent comparing their spending habits and trends between 2019 and 2020, which has changed dramatically due to the recent impacts of the Coronavirus pandemic.
In September 2019 we reported that demand for large luxury estate properties had reduced significantly over the previous few years, instead home purchase decisions by the affluent were based on the diversifying their portfolio, prioritizing quality over space and the inclusion of resort-like amenities.
A year later, and the restrictions of the Coronavirus have changed both the preferences and lifestyle requirements of the affluent. In fact, the last 6 months has seen a resurgence in the buying of mega mansions and estate size homes; specifically properties that offer space, both inside and outside, separate home offices, gyms and private amenities such as swimming pools, yoga studios and recreation rooms.
The report looks at some of the important variables such as the increase in median sales price, effects of working from home, and markets that have seen the greatest impact.
We also review the growth of wealth and how the affluent are not only continuing to spend on luxury, but the innovations that are facilitating their spending; from digital shopping, to implementing health and wellness aspects into their lifestyle and increasing private luxury services to ensure their needs are met.
The changing face of the real estate industry now fully recognizes the importance of including amenities that address the physical, social and mental/emotional/spiritual dimensions of its residents.
For homeowners looking to sell or buy their luxury home in today's market they recommend working with a Realtor who can provide you with critical knowledge about your local market, maintain a high level of security during the transaction and knows how to leverage technology to provide maximum exposure and assistance.
It is my responsibility as your REALTOR to ensure that when others around you are lowering their expectations, that it is the time us to switch gears and discover how to leverage these themarket effectively to achieve your goals.
I'm almost always available to chat about real estate, so do NOT ever hesitate to call, text or email me!